Photogrammetry
3D point cloud creation through images, also known as photoscanning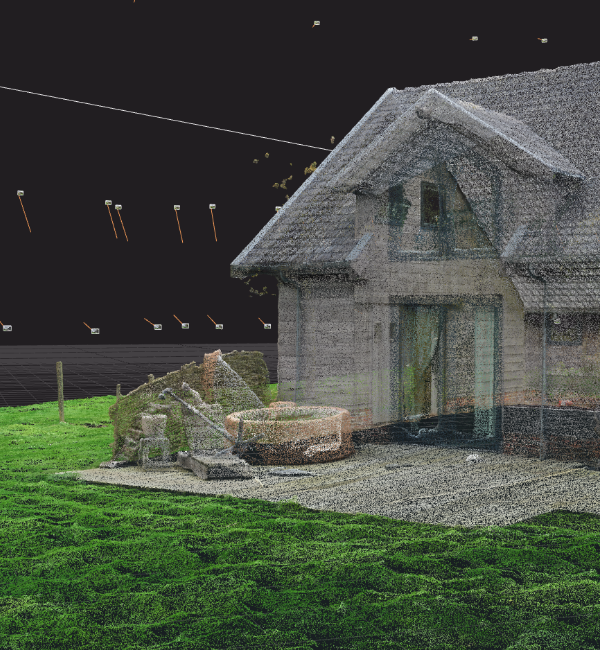 In our efforts to develop techniques for 3D-scanning, we've explored the world of photogrammetry. While this is not a novel technique, lots of progress has been made in recent years in terms of reliability and compute times.
We currently utilize photogrammetry as a companion technology to our SLAM-scanning.
From the results we've seen, photogrammetry provides precise enough results to work with, depending on your use-case. Through careful calibration, it is entirely possible to produce a measurable 3D-model, although the margin of error varies with the scale of the model. However, scanning with LiDAR through SLAM does provide more accurate results and is generally less dependant on factors such as weather conditions and proper scanning strategy.
On the other hand, photogrammetry does hold certain advantages over our SLAM-scans at our current state of development. We're working hard on implementing solutions for these in our SLAM process, which we expect to have fully operational within a year.
At the time of writing, photogrammetry is the quickest method for us to produce a model in RGB colour. While also being the quickest method to produce a mesh model, which is generally more compatible with industry 3D-modelling software.
For a quick overview, here's a list of advantages and disadvantages of photogrammetry, when compared to our SLAM process:
Advantages
Lower startup cost
Quicker for colour- and mesh-models
Requires less advanced hardware
Disadvantages
Less precision
More labour intensive
Slower scanning process